March 26, 2020
Posted by:

admin

Category:

Uncategorized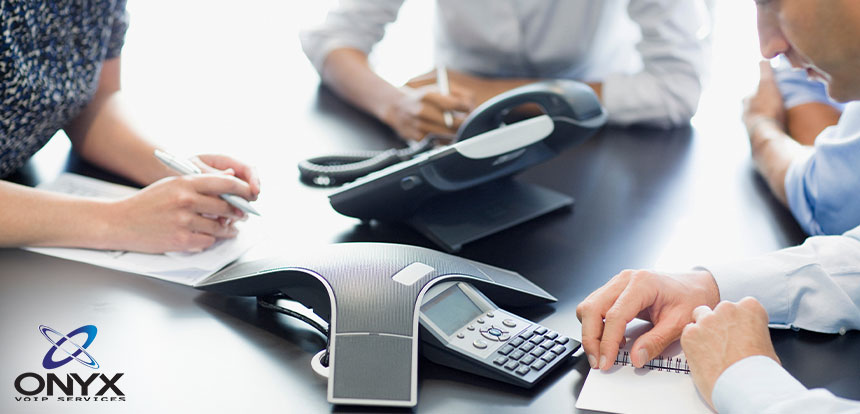 VoIP phone services greatly improve employee collaboration and efficiency.
Employee collaboration has always been a vital element when building a successful new business or expanding an existing one. In fact, companies spend a great deal of time researching and implementing various initiatives with the sole purpose of improving the way employees interact and work together.
Business phone services play a big role in making that happen. Therefore, many companies have taken their communications to a more advanced level with the installation of a VoIP phone service. Let's discuss some of the employee collaboration benefits you'll receive if you decide to do the same.
Faster Communication
One of the primary goals of any communications system is expediency. A VoIP phone service combines multiple aspects – phone calls, voicemail, email, texting, instant messaging, etc. – which allow employees to reach out to each other right away. Plus, with all of the different channels available, it's unlikely a person will be unreachable when they're needed. This means that projects can be completed quickly, and customers can be serviced with little delay.
Rolls with the Punches
In addition to providing multiple channels through which communication can occur, a VoIP phone service can adapt to any new channels developed, along with new technology. This has been an obvious feature from the beginning since VoIP was basically utilizing the cloud before it became a widely used tool. This means any employee collaboration tools that come onto the scene can quickly become a part of your communications system.
Teamwork and Productivity
You simply can't have teamwork in any business without employee collaboration. VoIP phone systems make many tasks easier to perform, which helps to improve each person's productivity. This enables better collaboration between two or more employees because they can always stay connected even if they're communicating over great distances, thereby working together to complete a task or project at a much quicker pace.
Work-from-Home Capabilities
As recent events have shown, the ability to allow employees to work from home can be indispensable. For several years, business VoIP providers have been assisting companies with setting up home workers on either a part-time or full-time basis. This enables employees to collaborate from long distances while dealing with public health issues, family emergencies, child issues, and other common life problems that can happen without warning.
Easy Conference Calls
In the old days, conducting meetings between members of your personnel or with outside clients could be somewhat of a hassle, especially if you needed to collaborate with people in multiple locations at once. A VoIP phone system simplifies the process by utilizing audio and video conferencing that can help organize and conduct each meeting flawlessly. This is also enhanced by the superb call quality that all members of the collaboration will experience.
Find Me / Follow Me Feature
Collaboration is impossible when you can't locate the person you're supposed to be working with. VoIP service providers have solved this issue with the use of the Find Me / Follow me feature. With this option, incoming communications can be automatically forwarded to a different business or personal phone number so each person can connect even when they're on the go.
Unlimited Long Distance
Since collaborations often take place between individuals who are in different locations, companies end up spending a lot of money on long distance. With a VoIP phone service, however, you can make an unlimited amount of local or long-distance calls. Not only does this improve your collaboration capabilities, but it also makes this possible without adding to your budget.
Onyx VoIP Services Improves Employee Collaboration
At Onyx VoIP Services, our team can help take your employee collaboration capabilities to the next level. If you have any questions about Voice over Internet Protocol installation or would like to learn about a hosted solution, give us a call at (855) 565-6699 to schedule a no-cost consultation.